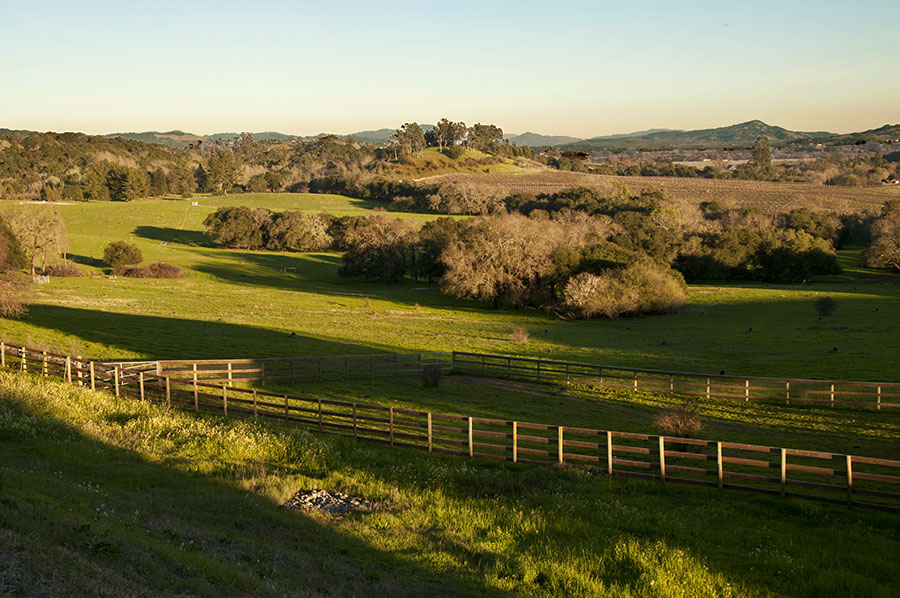 Agriculture/Natural Resources Department. The farm provides students with hands-on experience that cannot be duplicated in the classroom. The farm is located about 12 miles from the Santa Rosa Campus, between the towns of Forestville and Windsor, in the heart of the Russian River Valley AVA (American Viticulture Area). It was named in honor of Robert Shone, a very active leader in Sonoma County agriculture, in addition to being a Santa Rosa Junior College trustee and President of the Sonoma County Farm Bureau.
History
During World War II, the property was a military listening post, monitoring radio traffic around the world. In 1972 it was declared surplus land by the federal government, and subsequently acquired by Santa Rosa Junior College. Since then, the farm has provided broad learning opportunities to thousands of students in many agriculture areas: Viticulture, Wine Studies, Equine Studies, Animal Science, Sustainable Agriculture, and Natural Resource Management. 
Outdoor Learning Lab
Shone Farm includes 120 acres of forest, 100 acres of pasture, 90 acres of vineyard, 12 acres for crop production, 4 acres of olive and apple trees, and 39 acres of buildings and improvements. Altogether, Shone farm is one of the largest agriculture sites in the California Community Colleges system. In addition to the agricultural land, there is open space around the farm's perimeter that serves as wildlife corridors and habitat. SRJC Ag/Natural Resource students are taught commercial production techniques at Shone Farm, which prepare them for the workplace, or to transfer to a four-year university.
Shone Farm also features products for sale, such as award-winning wine and olive oil, produce, and other value added products. The farm has evolved into a diversified agricultural center that provides a wide variety of educational opportunities for students majoring in Agriculture and Natural Resources.
Vineyard
The farm includes 90 acres of commercial vineyard in the Russian River Valley. The varieties of grapes include Chardonnay, Sauvignon Blanc, and Pinot Noir. Most of these grapes are sold to local wineries. A one-acre teaching block planted with many grape and rootstock varieties from Albarinio to Zinfandel provides opportunities for students to learn varietal identification.
Forest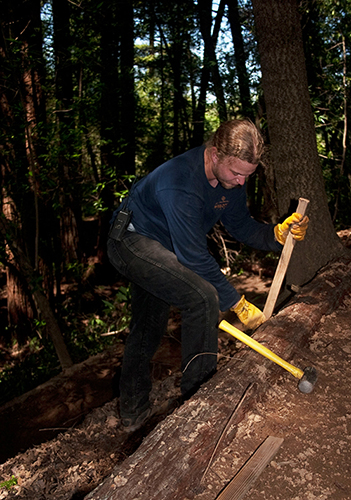 The forested area of the farm is a mixture of trees; Redwood, Douglas Fir, Pine, Madrone, Bay, and several species of Oak, all provide habitat for many native bird and animal species. The forest provides students with firsthand experience in forest and trail maintenance, and watershed management.
Pasture
The pasture supports the Animal Science Program. Irrigation is provided to parts of the pasture using tertiary treated recycled water from The Town of Windsor.
Crop Production
Shone Farm's crop production area allows students to learn sustainable farming practices on a commercial scale. Sustainable Agriculture students are involved in planting, harvesting, packing, pricing, and selling vegetables and fruit. During the growing season, produce is sold on campus at our Seasonal Farm Stand, at farm events, and through the Feed the Bears program. In addition, we provide produce to several high-end markets and restaurants, including the SRJC Culinary Café. Students also learn to produce value-added farm products, such as our award winning olive oil, under the Shone Farm label.
Community Support
Shone Farm and the SRJC Agriculture and Natural Resources Department are grateful for the incredible generosity and support of the agriculture community in Sonoma County.
The SRJC Foundation's Ag Trust Committee was established in 1999 to coordinate and guide fundraising efforts benefitting the agriculture and natural resources department and Shone Farm. Since its inception, the Ag Trust has raised several million dollars in endowed funds, capital campaigns, planned gifts, and student scholarships.
The Shone Farm Foundation was formed in 2008 as a 501c3 to establish the Shone Farm Winery as a bonded winery. The mission of the Shone Farm Foundation has expanded to include support for the entire line of "Shone Grown" products and to ensure that Shone Farm remains a premier destination for education, training, and community engagement in Sonoma County.
Members of the Ag Trust Committee and the Shone Farm Foundation are leaders and visionaries in all areas of Sonoma County agriculture. Besides the financial support they provide, these individuals and organizations ensure that Shone Farm and the SRJC agriculture and natural resource department are at the vanguard of the agricultural sector in Sonoma County.