Farm Fresh Produce
Our farm fresh produce is available to the public in a variety of ways:
CSA (Community Supported Agriculture)
Existing CSA Members Click Here To Access Your Account
Join our CSA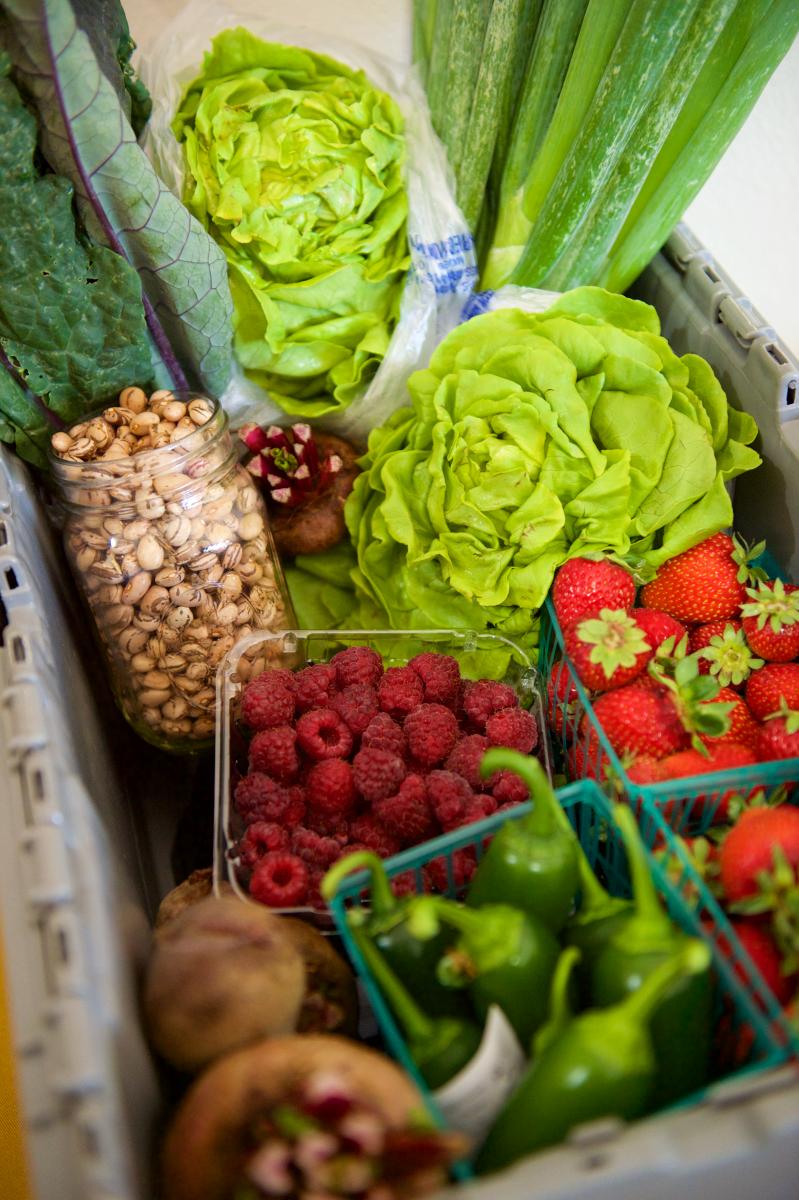 You can now join our 2019 CSA program by clicking the button above!  
About our CSA
Each week, you will receive a share of whatever is ripe and ready to eat, grown by Sustainable Agriculture students. Our focus is to deliver a wide array of high quality produce, along with menu ideas planned for every box. At the same time, this provides a hands on opportunity for students to learn the growing and harvesting practices of many crops.          
Everything is grown for you, our local community, using sustainable practices. Your CSA membership gets you fresh, tasty fruits and veggies while students receive the opportunity to learn how to run a sustainable farm and produce for a local direct market. Everything in our CSA is grown here at SRJC Shone Farm.
Each week's produce will change, and everyone's eating habits are different. A CSA box share should feed 2 avid vegetable eaters, or a family of 4 "average" veggie eaters. Our scholar bag share is taylored to 1 - 2 people, or occasional veggie eaters.
Here are a few typical items that you might see in the box each season:
Summer - Zucchini, cucumbers, lettuce and other greens, sweet corn, carrots, new potatoes, fresh herbs, berries, and apples
Fall - Tomatoes, sweet potatoes, peppers, lettuce and other greens, winter squash, broccoli, lemons, and apples
General CSA Details:

We select a wide variety of unique produce to tantalize your taste buds, as well as some of the tried and true staples.  We also strive to include a variety of unique items such as Shone Farm olive oil, dried beans, sweet potatoes and Sonora wheat.
Memberships:  We offer a variety of CSA memberships to fit your needs. 
Size Options:
Regular CSA box: This box is good for dedicated vegetable eaters or a family. It includes 8 - 10 items every week.  You also receive a weekly newsletter with storage and preparation tips, plus lots of great recipes. The cost ranges from $24 - $27/ week, depending on the length of membership and pick up location.  (Members picking up at Shone Farm receive $1 off each box).
Scholar Bag: If the quantity of vegetables in the CSA box is too much for your family to consume, you may want to consider the Scholar Bag. This option includes 4 - 5 items tailored to create a meal, with recipes included. The full season cost is $12/ week, and the monthly cost is $12.50/ week.
Length of membership:  
Discounted full season membership – receive 1 box or bag every week for the full CSA season (28 weeks) at a discounted rate.  Box cost is $700 for the 28 week membership, which equals $25/ box. Scholar bag cost is $336 for the 28 weeks, which equals $12/ bag.
Single season membership (summer OR fall) - receive 1 box every week for the summer or fall season (14 weeks per season).  The summer season runs from June 6th through September 6th, 2019.  The fall season runs from September 14th through December 13th.  Cost is $364 for the 14 week membership, which equals $26/ box. We do not offer a seasonal scholar bag option.
Monthly Membership - receive 1 box or bag every week for one month.  The monthly option is available during the months of July, August, September, October, and November.  The November monthly membership includes Thanksgiving week, with special items geared towards your feast. Box cost ranges from $108 - 135, depending on the month, which equals $27/ box. Scholar bag cost ranges from $50 - 62.50, which equals $12/ month.
Pick-up Locations:
Pick up locations will be at Shone Farm in Forestville, the Santa Rosa Junior College campus, and Steele & Hops. Members picking up at the farm receive a $1/ week discount on CSA boxes (price is automatically deducted at checkout, online).  We are also determining an additional pick up location at the Petaluma SRJC campus.
For additional details about our CSA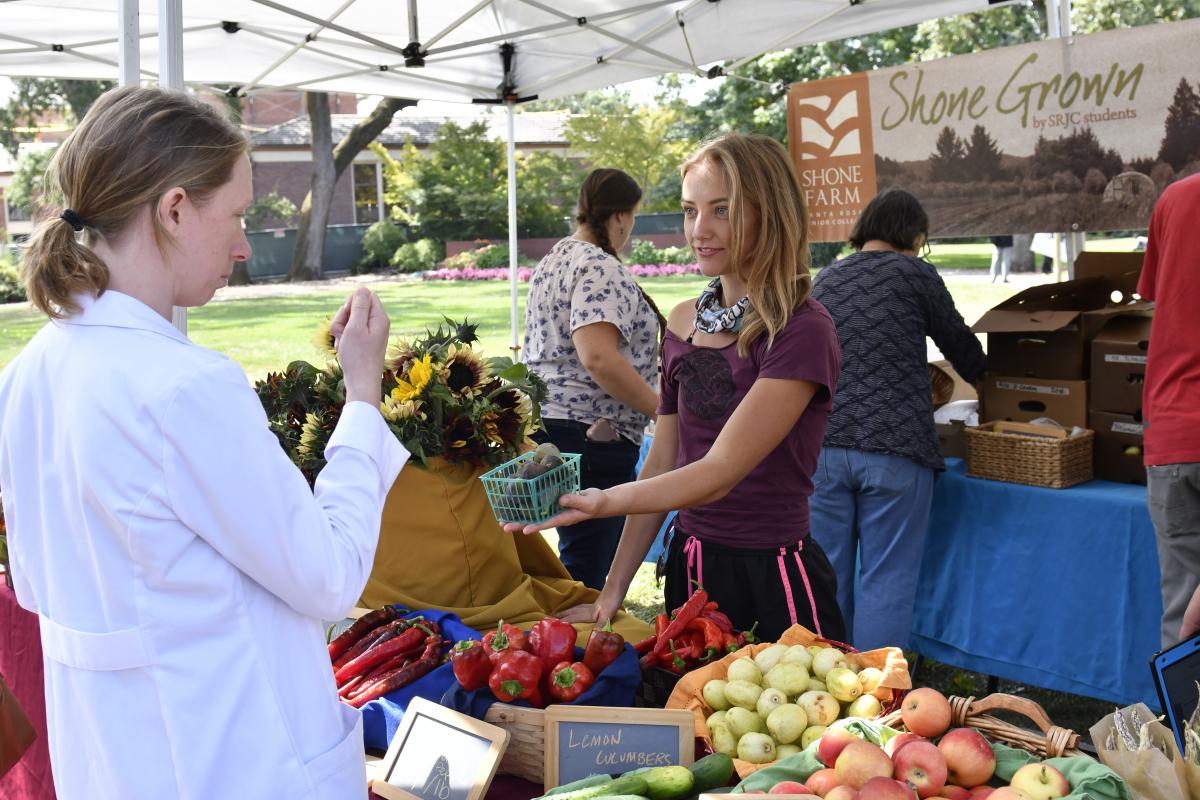 For more information about any of our products, contact us at shonefarm@santarosa.edu or 707-535-3704.
Seasonal Farm Stand
Weekly on Wednesdays 9/4 through 10/9, from 12 - 1:30 PM
Days/ Hours: Wednesdays from 12 – 1:30 PM
Location: SRJC campus, on the lawn in front of Doyle Library
Anticipated produce: Strawberries, apples, cucumbers, summer squash, eggplant, tomatoes, peppers, onions, figs, sweet corn, and so much more!
It is open to the public. We accept cash or credit card. All produce is grown at Shone Farm, and students in the direct marketing class participate in the farm stand for a hands on selling experience. Stop by and see what delicious snacks you can munch on!
Pick and Sip Saturdays at Shone Farm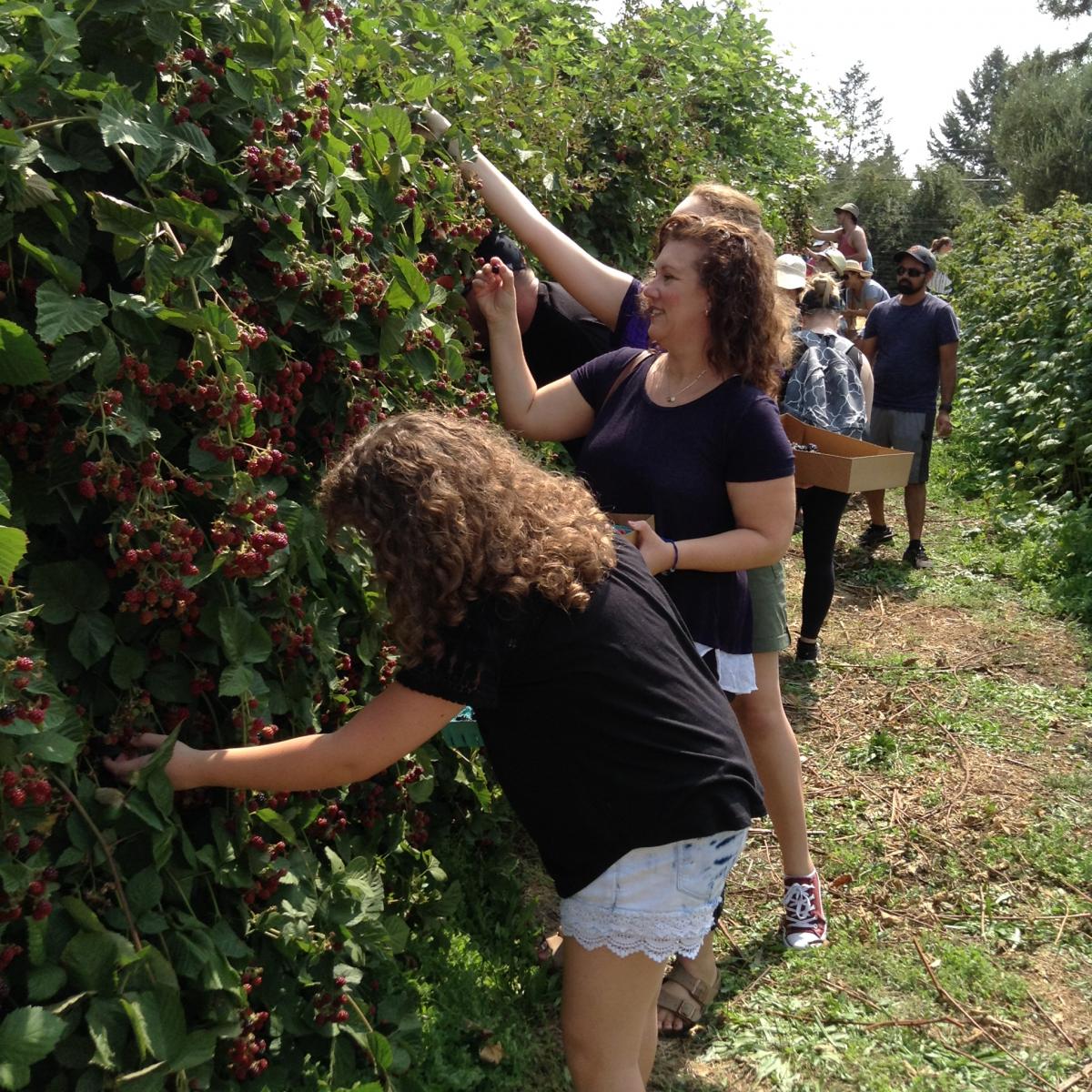 Pick and Sip Saturdays are a new family-oriented community event series at SRJC Shone Farm that began in 2018. The farm opens to the public for a special day of u-pick of our seasonal crops, food & music, wine & olive oil tasting and farm activities! 
Our 2019 dates are:
Saturday September 14th
Saturday October 12th - SRJC Shone Farm Fall Festival
November & December dates to be announced.
For more info on our events, check out our facebook page.
Shone Farm Olive Oil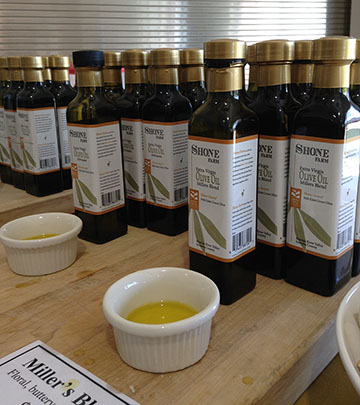 Shone Farm has two acres of organically farmed olive trees planted in close spacing to produce our award winning olive oils. The three main varieties that we bottle individually are Arbosana, Arbequina, and Koroneiki. We also produce a Millers Blend of all three. Try some today to taste the terroir of Shone Farm! Currently available at Oliver's Market, directly from the farm, or at the SRJC Culinary Cafe.
Local Restaurants, Shops, & Organizations that Purchase Our Products